9/29/16: The Black Lantern is coming...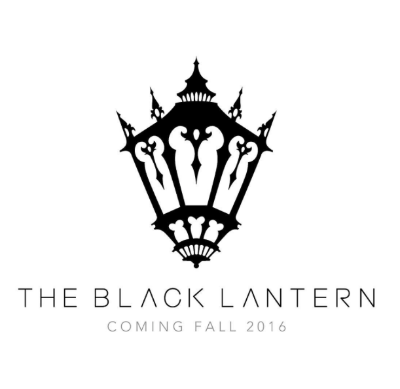 It gives me great pleasure to announce that I will be opening up my brand new studio, The Black Lantern. The shop is in Dana Point, California; a block from the ocean and minutes from my house & family. We are getting ready to start construction and will be open this Fall! I am honored to say that my friends, Josh Woods & Sean Hall, will be joining me in this new adventure as full time artists! You probably already know their work. Follow them now, if you don't. I really admire these gentlemen, greatly; both artistically and personally. Hardworking, honorable, talented beyond belief, epic art and personalities, and just plain rad dudes.
This has been a couple years in the making; and I cannot express how excited I am for the next chapter in my career. I started tattooing 10 years ago so it seems fitting to take this next step. Thank you to everyone who has supported my career and followed me around over the years. This is just the beginning. Check out our new website at www.theblacklanternoc.com, and follow the talented dudes who I get to work with, very soon.
It is bittersweet, because I won't be able to work with the beautiful folks at The Vatican anymore. I want to publicly thank them, especially Franco Vescovi, for providing the most loving and gorgeous shop environment I've ever worked in, for the past 4 years. Franco; you are a true gentleman, an inspiring human, and a friend. Thank you for being you. Thank you for giving your heart and art to the world. I am a better person and better artist because of my time spent there. I can only hope to recreate that magic at my new studio. I can't wait for the future and I love being able to call you and the Vatican crew my second family, for life. Thank you.
---
---
8/15/16: Backstage Ink with Nick from WALK THE MOON!
In this episode, we meet Nicholas Petricca, the frontman for the rock band, Walk The Moon. They have been busy blowing up and touring the world, supporting their new album, "Talking Is Hard". The album features the smash hits, "Shut Up and Dance" and "Different Colors", which have been ruling the radio charts all over the world. They recently played with Taylor Swift and opened up for The Rolling Stones! These dudes are bonafide rock stars. We had the chance to go to their rehearsal studio in Hollywood and watch them practice for their upcoming world tour. We also had the privilege of seeing them in full force; live, in front of thousands of adoring fans. It was a magical experience. Walk the Moon is one of the best live acts we've ever seen and we encourage everyone to go experience them in concert.
Nick was also nice to enough to invite us to his home where I was able to set up shop and prepare for an epic elephant tattoo on his ribcage. Nicholas asked for a photorealistic time-traveling baby elephant tattoo, in a surreal color realism style. During the tattoo, we hear about the history of the band, the meaning behind the album and songs, talk about his new tattoo and what it means to be in a band like Walk The Moon. We even got to hang backstage on their beautiful tour bus and talk with the guys. This was a very memorable experience for all of us involved. All of the members of Walk the Moon and the full production crew treated us like family. They are all so humble and rad and deserving of their massive level of success. Nick really is a true gentleman and a brilliant artist. We hope you enjoy this episode as much as we enjoyed making it. If you do like it, please share it with a friend who likes Walk the Moon, tattoos, and rock and roll! Also, post it on your various social media pages! Make sure to view it in HD!
Presented by Prophets & Poets. Modern Sorcerers Productions. Directed by Cody Groom / CGroom Media. Executive Producer: London Reese. Photography: JDH CR8IV
---
---
6/9/15: Backstage Ink with Matty Mullins of Memphis May Fire
Matty Mullins, the frontman for the band Memphis May Fire, asked for a depiction of the "Woman at the Well", a story from the Bible in the book of John. We got to talk about rock and roll, being a rock star, traveling the world, balancing work and family, recording with Memphis May Fire and being on the Bilboard top 200 and more. Watch the band play live at one of their special shows and hear Matty talk about the importance of being a frontman. This was quite the experience; hearing his stories and watching him sit like a boss while he got his neck tattooed by London Reese. Check him out. Check his band out. Enjoy. Thank you to Matty and Rise Records for allowing this special project to happen.

Make sure to subscribe to Youtube.com/LondonReese to keep up on all things related to Backstage Ink and new tattoo videos! Thanks for watching and please share it if you're a fan!
---
---
3/1/15: Backstage Ink
I am very proud to announce my involvement in the new documentary web series, Backstage Ink. We take a camera crew and go behind the scenes with various rock stars and celebrities to show you a glimpse in to their fascinating lives. I get to interview them and discuss whatever we want and I also tattoo them somewhere in the mix of hanging out on tour busses, in studios and amazing venues, and even just epic living rooms. Make sure to SUBSCRIBE to my YouTube Channel so you can see new videos as they drop! This first episode is with Sleeping With Sirens, an awesome rock and roll band who just put out a new album called "Madness". I get to tattoo their drummer, Gabe Barham, and hang for a couple days. Follow me, backstage.
Producer John Feldmann has produced some of my favorite albums of all time so it was cool getting to talk about the recording process with Gabe and their extra guitarist Alex Howard. We discussed what it's like to tour the world, some band history, and just a general bro-down conversation about life. They invited my crew to their rehearsal studio and even their tour bus during their tour with Pierce The Veil, where we got to watch them play in a huge arena in San Diego. It was an incredible experience I won't soon forget. A huge thank you to Gabe and company for having us and treating us like family. Go check them out at www.sleepingwithsirens.net.
---
11/18/14: Tattooing from Life Project 1
Check out my new video, which captures the process of something new in tattooing, on my great client, Matthew Wittmer! Listen and watch. As always, check out any and all of my videos on my channel Youtube.com/theartoflondon.
---
---
9/25/14: Florence, Italy and The Deathless Contest!
I will be tattooing at the Florence Tattoo Convention November 7-9. I'm sharing a booth with my broseph, Jon Mesa. I can't wait. I have one spot open to do a rad tattoo. I would love to do some awesome portraits of heroes, celebrities, awesome movie characters or some custom work inspired by my Deathless Series artwork. I want to do decent sized single-session tattoos so I can leave you with a nice completed tattoo. Send your best ideas to my email with the subject "Florence Convention" to theartoflondon@gmail.com.
Prophets & Poets and I have teamed up and are throwing a special contest called The Deathless Contest, where one person can win a paid trip to California and a free tattoo from me, worth up to $2000! All you have to do is buy one of my brand new limited edition Deathless Series archival prints and be entered in to a drawing where you can win some awesome prizes, including a free $2000 tattoo from me and some great merch from Prophets and Poets! The last day to purchase is Halloween, October 31, 2014! Official Rules and more information below.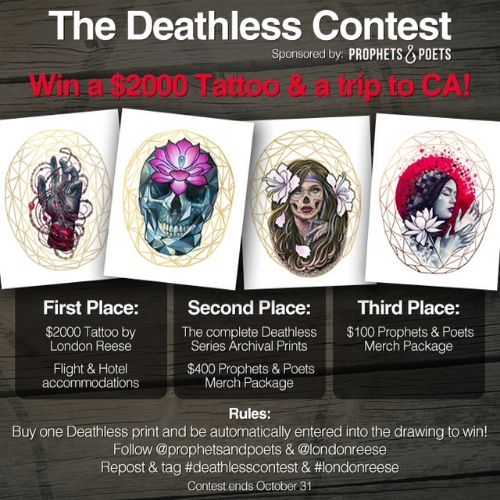 OFFICIAL CONTEST RULES:
In order to be entered in to the drawing, you must do the following:
-Purchase at least one Deathless Series print from the webstore of www.theartoflondon.com (for every print purchased, your name is entered in to the drawing that many times. So if you buy all 4 prints, you are entered 4 times!)
- Re post the "Deathless Series Contest" picture on your Instagram page (Facebook and website and blogs are helpful, too!).
- Tag @londonreese and @prophetsandpoets AND Hashtag #londonreese and #deathlesscontest on your Instagram page. THAT'S IT!
---
-Contest is only available to people in the continental United States of America
-1st place winner receives a completely FREE tattoo from London Reese with a value up to $2000 in a single session (unless London Reese decides two sessions is necessary).
-1st place winner receives a FREE flight from anywhere in the continental United States to California and a free night's stay at a local hotel, close to where the tattoo studio is.
-1st place winner will have to provide their own transportation from airport to hotel and tattoo studio (due to liability issues and possible car insurance issues).
That's it! Good luck and thanks for being a part of the Deathless Contest!
---
---
9/9/14: "There's magic in the words that you sing."
I know many of you, like me, were saddened by the loss of Robin Williams. I was pretty upset the day he passed and all I knew was to grab a pencil and draw. I decided to add one of my all time favorite quotes from the film, Hook, in which Peter is dueling with Hook. The piece got a good amount of attention so I decided to print a limited run of archival prints to sell and donate proceeds to the American Foundation for Suicide Prevention (www.afsp.org). There are just a few left! Send me an email if you'd like a print. Only $20 for a high quality 8x10" print. He seemed to be a pretty great humanitarian and someone who generally cared. He made my childhood better, so I wanted to give back to the world, in his honor.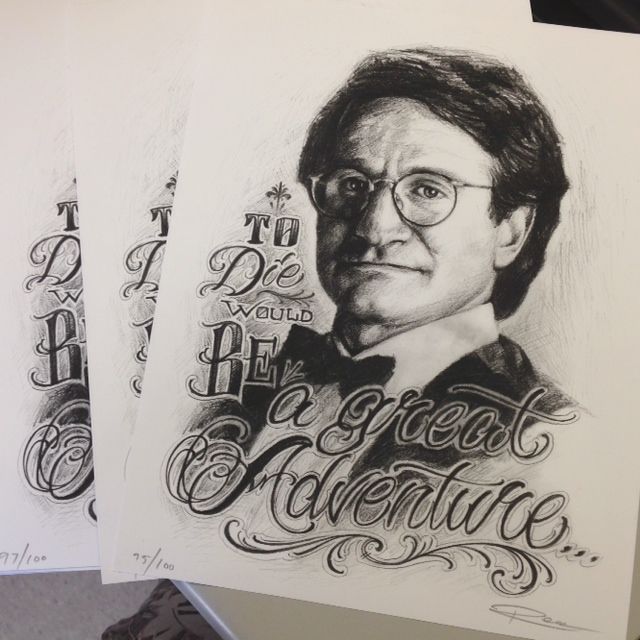 If you like heavy, dark rock n roll, go listen to the new He Is Legend album, Heavy Fruit. It's incredible.
---
---
7/4/14: Happy 4th of July!
My New York trip was amazing. I had an incredible time. I saw Dave Chappelle and Nas perform, experienced Sleep No More (check it out, for real), tattooed some awesome stuff on some amazing folks, and partied pretty damn hard. Thanks to my brother, Jon Mesa, it was a trip I'll never forget. I'll be on the road again this August, heading to Phoenix, AZ for the Hell City convention (my favorite in the states). I am hoping to tattoo some really cool projects while I'm traveling so send us your best ideas and we will get things rockin'!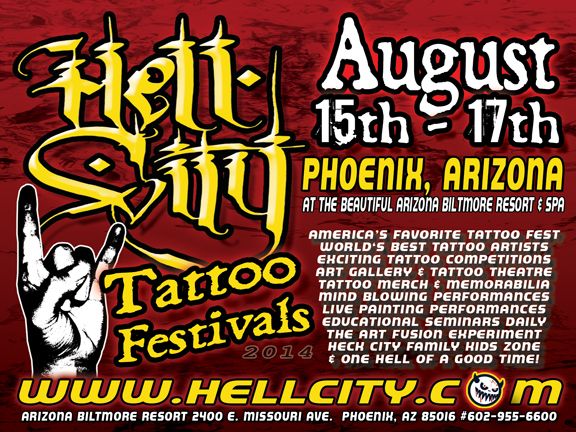 Also, I just confirmed that I'm heading to Florence, Italy in November this year! I cannot wait! I'll be doing the convention in Florence alongside Jon Mesa and looking to maybe do a guest spot and even check out the World Wide Tattoo Conference in Venice. If you're in Europe and want to set something up for my trip over there, send us an email with rad ideas that I can finish in one day. I'll continue to add travel dates on here as I confirm them. Have an awesome summer, everyone!
---
---
6/17/14: "Where's the moment of divine inspiration?"
Summer is off to a great start! Ink N Iron was a good time and I'm looking forward to the coming months of conventions and trips, including New York, Hawaii, and Phoenix. Send me an email if you'd like to set up an appointment at one of these shows. I'm going to be in New York for a couple weeks for a some conventions and a guest spot at Sacred with my buddy Jon Mesa. Send me an email if you would like an appointment while I'm in town. I hope you guys have a great summer!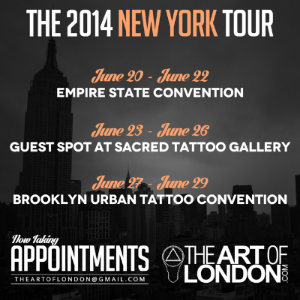 I released the first two pieces from my new "The Deathless Series" artwork. I'll have archival giclee prints available on the road or you can email me if you'd like to inquire about picking them up or having them shipped to you, directly. They are hand signed, numbered, and hand embellished with 16k gold leaf. 11x14". They are $60 each or $100 for the pair.
---
---
4/16/14: "I'm a dreamer and I'm dreaming on."
I've been keeping busy. Family, friends, art, and travel seem to occupy all of my time. This video captures a glimpse of my last few months:
---
---
3/26/14: "Hold the light that fixes you in time."
Oh, 2014; where are you going? My parents weren't lying! Time really does fly. My daughter is growing and the days are just cruising by. I can't express the true joy of parenthood. I didn't realize how powerful it would be, to be a dad. It is very motivating and inspiring. Moving into the coming summer months, I will be doing a bit of traveling. Chicago and Iowa were great, so I'm eager to get back out there. I'll be heading to Hawaii, Phoenix, and Boston for various tattoo conventions. I'll keep you updated as they come up. For now, enjoy this little music video for the band, Miss May I. Notice anyone familiar? Haha. I'm a big fan of metal and when this band asked me to be a part of their new album, I obliged. The tattoo I did in the video is also the cover art for the new album, coming out in April!
I've also been working on some new tattoo videos! Check out this new one, where I create a color realistic lotus flower. I love tattooing realism! This was insanely fun. The song is "I will wait", written by Mumford & Sons, but recorded and performed by my buddies in The Goodnight! Enjoy. Also, check out the other videos on my YouTube account!
---
---
12/27/13: "It was dead, but, it was beautiful"
Well... here we are. I hope you are all enjoying your holiday season. I can't believe 2013 is already nearing completion. It has been a whirlwind, to say the least. I feel blessed. My family, including my new daughter, is thriving and well. I find contentment knowing that 2014 will begin with a very postive vibe. I'm eager to meet the future, make more art, and adventure. Here is episode 2 of my new tattoo videos. Make sure to find and subscribe to my YouTube channel and see what else I'm up to!
I have a lot of plans for 2014, so stay tuned. I'll be attending the Best in The Midwest Convention in Iowa in February. I'll be teaching a seminar while I'm there! I'll be discussing my methods, tools, techniques, how to stay versatile, and a lot more in this seminar! If you are interested, you can sign up at www.shaneoneillproductions.com. Looking forward to meeting every one of you, while I'm out on the road and making memories! May we all have a happy new year! Cheers,
London
---
---
11/25/13: "When the moon hits the sky.."
I am proud to be a part of a new movement in tattooing culture. It is called the Intenze Creative Academy. My ink sponsor, Intenze Products, sent me and some of our pro team to Florence, Italy, for a crash course oil painting workshop in the heart of the city. WIlson Guevera taught us about limited palette, rennaissance portrait painting methods. We learned color theory, canvas preparation, drafting, composition, and so much more. It was an insane experience.

Most tattooers also make other forms of art and Intenze wants to show the world that tattooing is a beautiful, respectable medium of fine art. Where better than Florence to bring some good people together to make art and share the experience? I am so thankful that I could be a part of something so unbelievable. The masters were all about community. I love that we could bring artists from all over the world to one amazing place to talk shop, make art, and be a community of positive artists. This is the new age of tattooing. Versatitlity is key and the true artists will remain, while others will fade away. Please share this video with your friends (website, blog, Facebook, Twitter, etc). I want to promote this and get other people to do stuff like this. Let's change the world, together. Enjoy.
Current Jams:: AFI - Burials, The Bamboos, Jai Paul, Action Bronson, A Day to Remember - Common Courtesy, The Goodnight, The Neighborhood, Norma Jean - Wrongdoers, Protest the Hero - Volition, Wu-Tang Clan
---
---
10/16/13: "It's all happening!"
I am pleased to announce that I have been developing a new series of videos which highlight some of my recent projects. I will be consistently posting new videos with new footage, as well as sharing some insight and stories about my art and personal life. This is just the beginning. If you enjoy it, please feel free to comment on the video (on the youtube comment page) and let me know what you think OR what else you would like to see in these videos! I want to show my process and offer some inspiration and guidance. Thank you so much for reading, looking, and watching. Stay tuned for more! Please enjoy Episode 1:
I am also extremely proud to announce that my wife and I recently welcomed our first child in to the world. She was born on my wife's birthday, of all days! She is healthy, beautiful, and absolutely perfect. Her name is Hendrix Rose Reese and she is unbelievable. Thank you to our family and friends for being so supportive! I'm hooked!
---
---
8/1/13: "Despite Everything, I'm Still Human"
I am blessed. Life has been so good to me and my family. I'm so grateful for my beautiful friends and clientele for allowing me to make art on a daily basis. I work a lot, merely because I love art and I love making it. I feel priviliged to tattoo so many amazing people and to share stories and ideas with you all. Thank you.
The Reno and Cincinnati shows were a blast! I will be doing the Hell City Tattoo Convention in Phoenix, AZ August 23-25.
My ink sponsor, Intenze Products, recently put together an amazing workshop for our pro team, in Florence, Italy, where we learned some oil painting techniques of the masters. It was one of the quickest and most memorable moments of my life. I made art alongside my talented team for a weekend of nonstop art in my favorite city on the planet. It was magic. They documented the whole thing, so stay tuned for some awesome short films that followed our journey.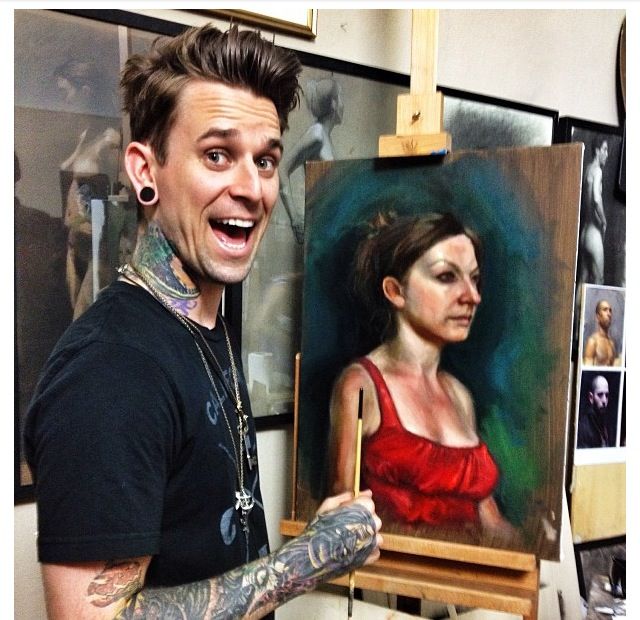 I was lucky enough to have a couple new features come out in Total Tattoo UK and Tattoo Society Magazine. You can find them on their respective websites! A huge thank you to Marco Annunziata from Total Tattoo and to Tony Romel from Tattoo Society. I am honored, guys. Thank you.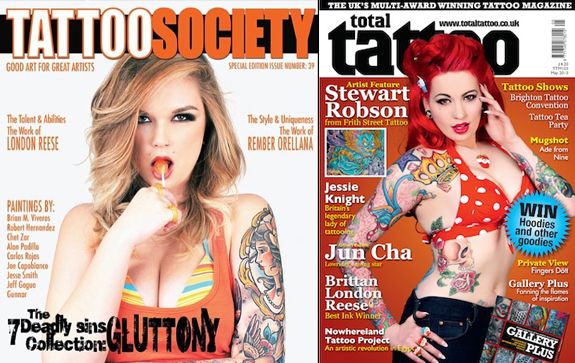 Anyways, I hope to see you all soon, at the studio or on the road. Until next time, be well and stay inspired!
Currently Jamming to: Daughter, The Rolling Stones, Attila, City and Colour, Letlive.
---
---
3/5/13: "Looking Forward & Moving Onward"
Where do I even begin? 2013 has been amazing, thus far, and also extremely busy. I went up north to Humboldt county for the Inked Hearts convention and went through the Redwoods (see pic below) and worked the Best In the Midwest show in Iowa, again... I had a blast at each show and saw a ton of good friends! My wife and I bought our first home, at the beach, and have been assimilating to the normalcies of adult suburban life. We love it! I've been working like it's going out of style and enjoying every moment of it.
Thank you to all of my past, present, and new clientele for allowing me to create on a daily basis. I've traveled just a bit, so far, but the rest of the year is looking like it is going to be gnarly. Here is a list of confirmed tattoo conventions and traveling/guest spots I'll be doing this year. I will most likely be adding to/updating this list so stay tuned for more! I'm taking a few appointments for some of them, so feel free to click the "taking appointments" link if you wish to be tattooed at a specific location and email me with cool ideas!
Musink - OC, CA : March 8-10
Silver State - Reno, NV : May 10-12 (taking appointments)
Guest Spot @ BangBang Tattoo Studio - New York City, NY : May 22-24 (taking appointments)
Ink-N-Iron - Long Beach, CA : June 7-9 (taking appointments)
The Gambling Rose - Cincinatti, OH : July 12-14 (taking appointments)
Hell City - Phoenix, AZ : August 23-25 (taking appointments)
United Ink - Long Island, NY : September 6th-8th (taking appointments)
Steel City - Pittsburgh, PA : September 13-16 (taking appointments)
I will also be selling art, prints, and various merch at every show. I hope to see some new and old faces so come by and say hi. Looking forward to it all!
---
---
11/25/12: 'Tis the Season
It is officially the best time of year! I do hope all of you have had a great start to this holiday season! My Halloween and Thanksgiving festivities were so enjoyable, alongside my close family and friends. I have been burying myself in my work, lately; enjoying the process of oil painting and building up my arsenal of sketchwork. Here's a newer sketch I did, recently, on the page of a 100 year old book I picked up at an antique store. I have put several new pieces up For Sale in my WEBSTORE. You can pick up some new artwork, prints, GIFT CERTIFICATES and tee shirts for all of your holiday gift needs!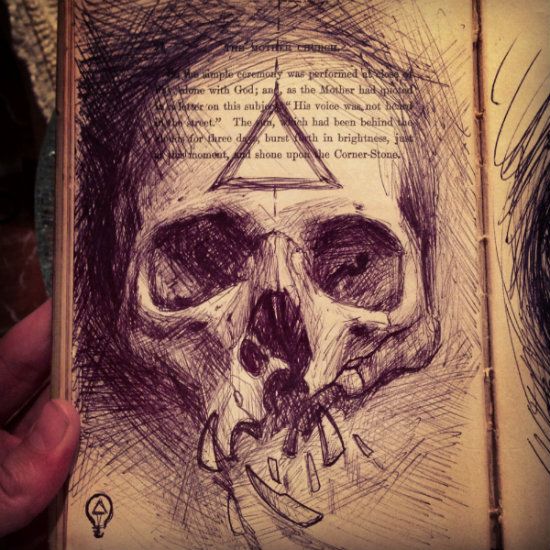 It is good to be back, living and working, in Orange County. I love my new tattoo home at Vatican Studios in Lake Forest, CA. I had an extremely busy year so I'm taking some time from traveling to be with family and to work on my local clientele. However, 2013 is right around the corner and is set to be my busiest year, yet! I will be attending several major tattoo conventions around the country and will be doing some international shows, as well. Stay tuned for those. For now, I will be doing the Inked Hearts convention in Blue Lake, California, January 31 - February 3rd. I am taking appointments for this show so email me with your ideas! I am also excited for The Best in the Midwest convention, again, in Iowa, February 8-10th. I'm booked up for this show but I'll be selling plenty of Art and other cool Merch so come by and say hi! Hope to see everyone very soon! Enjoy your holiday season!
New Jams :: Bitter Drink, Bitter Moon by Murder By Death // At Heart by Miss May I // Picture Show - Neon Trees // Alder Masters - My American Heart // The 2nd Law - Muse
---
---
9/28/12: I'm a Traveling Man
Autumn is here! I love this time of year and all the conventions, the amazing weather, and awesome holidays! The Ink for A Cause Tattoo convention in Ventura, CA and the Casino Chaos Tattoo convention in Biloxi, MS were both great shows. I was lucky enough to bring home a few awards for my tattoo work from each show. I had a blast and even took a detour on my way home to enjoy a fun night of mad shredding in the French Quarter of New Orleans with some great friends.
I am heading back to the East Coast this October! I'll be doing a guest spot at Sacred Tattoo Gallery in New York City October 10-11th. From there, I will be working the Inked Out convention in New Jersey October 12-14th! Come say hi and pick up an art print or tee shirt!
In addition, I will be working with the Intenze pro team (my tattoo ink sponsor) at the Biggest Tattoo Show on Earth in Las Vegas, Nevada October 26-28th. I will have merch for sale, here, as well. Come say hi if you're in town! Hope to see you there.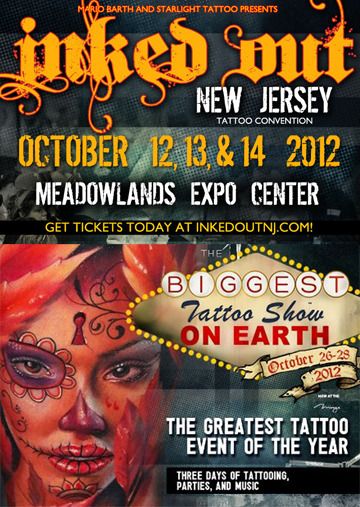 Currently enjoying: Awakened- As I Lay Dying, Blood & Dust - Brother Sal, Battle Born - The Killers, Babel - Mumford & Sons, My Head is an Animal - Of Monsters and Men
---
---
8/4/12: "Chapter 3: Looking Back"
Here is a short film about what I have the privilege of doing every day; tattooing. Directed & Edited by Jon Ryan. Check his other amazing work at www.JonRyansFilms.com.
---
---
7/19/12: "The Good Die Young and the Great Change the Course of History."
I am nearing my 26th birthday at the end of the month and I am REALLY excited for the rest of the year, as I have a lot of new things happening! I am excited to announce that my wife and I recently moved back home to the beaches of Orange County, CA (an hour south of Los Angeles). We will miss Los Angeles but we are extremely stoked to be back at the beach; close to family and friends, again.
I will now be tattooing full-time at The Vatican Tattoo Studio in Lake Forest, CA! My friend, Franco Vescovi, invited me to work out of his beautiful shop and I couldn't be more thrilled.
The Vatican Tattoo Studio
22622 Lambert St. #306
Lake Forest, CA 92630
I will also be a regular guest at my friend Roman's shop, Artistic Element 2, in Hollywood. I am very grateful for the experience and for all of the knowledge that I acquired from Mike Devries and the awesome crew/friends that work at the shop. I already miss them. I am proud to say that I am the artist I am today because of the time I spent there for the past 3 years. I am thankful for the oppurtunity that Mike gave me to work, learn and grow there. However, I am ready for the next chapter in life!
I will be traveling a lot and doing several tattoo conventions in the coming months, including the Ink For A Cause show in Ventura, CA Sept. 14-16 and the Casino Chaos tattoo convention in Biloxi, Mississipi September 21-23 and The Inked Out show in New Jersey October 12-14th. I am booked solid for these dates, but please stop by the booth and say hi! I will have some artwork, prints, t shirts, & stickers for grabs! Stay tuned, as I will update my travel dates, frequently.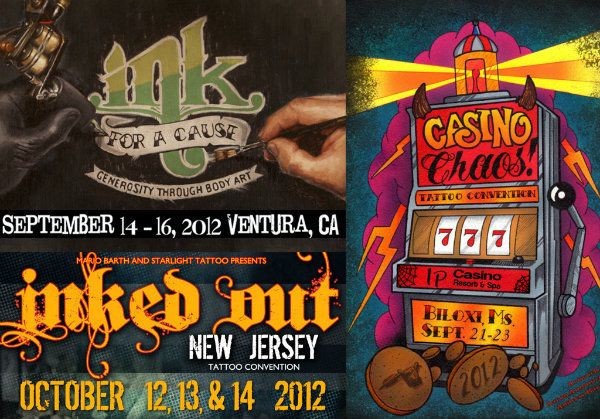 Our good friend, Megan Thompson, who photographed our wedding, also brought in a team to film the event. She recently sent me the final cut. My family and I enjoyed it so much that I decided to share it with everyone, in hopes that someone else might enjoy, too.
New Jams:: Memphis May Fire - Challenger, Jimi Hendrix - Experience Hendrix, Kimbra - Vows, Florence + The Machine - Ceremonials, Drop Dead Gorgeous - The Hot N' Heavy
---
---
4/10/12: "FOR THIS WE LABOR."
I am very pleased to announce the launch of my passion project and new art patronage, Prophets & Poets! I have been developing this for quite some time with a close friend of mine, in our spare time (...we have none). I am so excited to give back to the community of artists that I love and am proud to be a part of. We are constantly researching new artists, galleries, musicians, museums, and art related events AND updating the site with rad photos and articles, as well as an "artist of the day" almost every day. We even sell some rad shirts that WE designed by hand. This only adds to my crazy busy life, but I love my job and I am grateful to make art for a living. This is my chance to give back and showcase the work of talented artists from all over the world. Feel free to check it out at www.ProphetsAndPoets.com.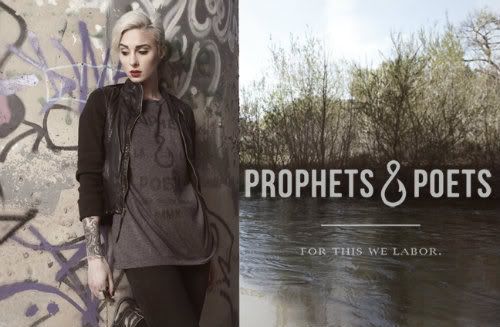 I am so stoked that the Ink N Iron Tattoo Convention is already back and that I'll be there, working, alongside the MD crew. I'm already booked up for the show but come by and say hi. I will have lots of art AND other merch for sale, including some Prophets & Poets gear!! I'm looking forward to setting up a few more convention dates for the rest of the year so stay tuned.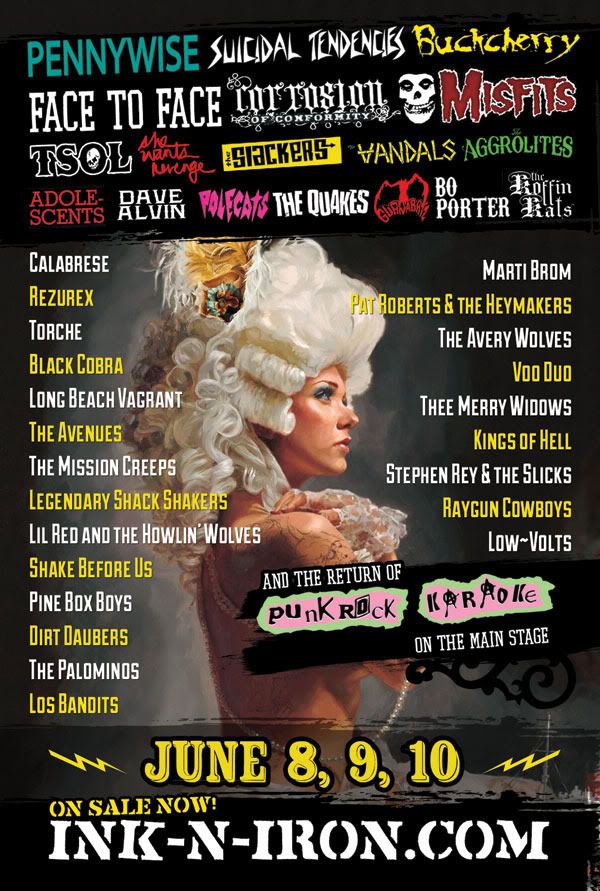 **Enjoying a ton of albums, lately: Norma Jean - Meridional, O' Brother - Garden Window, The Traveling WIlburys - Collection, The Used - Vulnerable, Structures - Divided By, Jack White - Blunderbuss, Every Time I Die- Ex lives, Deaf Havana - Fools & Worthless Liars, Astronautalis - This is Our Science, Alabama Shakes - Boys & Girls
---
---
3/7/12: "If we are the faithful living, then we are the grateful dead."
I recently had the chance to tattoo my old friend, Brandon Bolmer. Our old bands used to play shows together back in the day so it was nice to catch up and talk music, life, and art. Brandon is a talented vocalist who sang for Yesterday's Rising, Chiodos, and writes his own music. He asked me to tattoo a reproduction piece of a watercolor painting by Daniel Merriam on his inner bicep. I called my amazingly talented photographer friend, Megan Thompson, again, to capture the afternoon on film. She takes really beautiful photos of AND music videos for some talented musicians and artists. Enjoy.
I am excited to announce that my friend, Roman, is opening a new tattoo shop in Hollywood. He is throwing a Grand Opening party on March 27th at 6pm. There will also be a viewing party for Best Ink. I will be doing a guest spot that day; alongside Roman and other talented tattoo artist friends of mine. I'm really excited about this. We will have art and T shirts for sale so come hang out and enjoy the arts with us.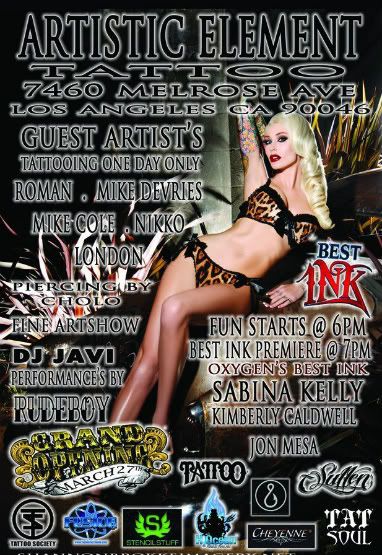 **Enjoying: Foxy Shazaam, Letlive, Within the Ruins, ETID, Mona, Greek Fire, Astronautalis, The Civil Wars
---
---
12/21/11: "Anchor my soul safe in the sound"
I will be attending Shane Oneill's "The Best in the Midwest" tattoo convention in Iowa, February 10-12th, 2012. I am currently booking appointments so email me ASAP if you are interested in getting tattooed at the show. I will also be selling some shirts and prints so come by and say hi. I am really looking forward to this show and seeing some good friends. I will be sharing the MD booth with my friend, Mike Devries.
It has been one amazing year. I am blessed with an amazing family, the best career in the world, the gnarliest friends, and one spectacular new wife. I cannot believe 2012 is around the corner and is set to be busier than this year. I wish you all a fantastic holiday season with your loved ones. Remember to stop and look around every once in a while. Life is pretty amazing. Here's to making next year even better. Cheers.
**My Favorite Records of 2011 (in no particular order) :: Dead Throne - The Devil Wears Prada, Wasting Light - Foo Fighters, Major/Minor - Thrice (RIP), The Hollow - Memphis May Fire, Scurrilous - Protest The Hero, The Flood - Of Mice & Men, Woven Material - Evaline, The Discovery - Born of Osiris
---
---
11/29/11: "Set your wings that have carried you this far to flames."
I am proud to be a part of Joe Capobianco's new group art show, "Heroes & Villains". My friend and colleague, Mike Devries, and I decided to do a collaborative oil painting for this show. We had it custom framed and it will be for sale. The show will begin on December 10th at Hope Gallery in Connecticut. If you are anywhere near the area, I highly recommend checking out the show because some of the world's best tattooers will be displaying and selling some amazing art. Gentle Giant is also sponsoring the event so go enjoy the arts!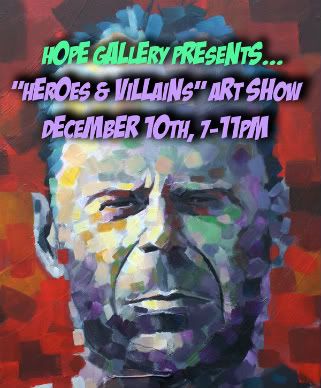 I am even more proud to announce that I married my Jr. High sweetheart and best friend in late October. We were surrounded by our amazing family and closest friends at a stunning venue in Malibu. It was perfect. It was one of the best moments of my existence. I am the luckiest man in the world.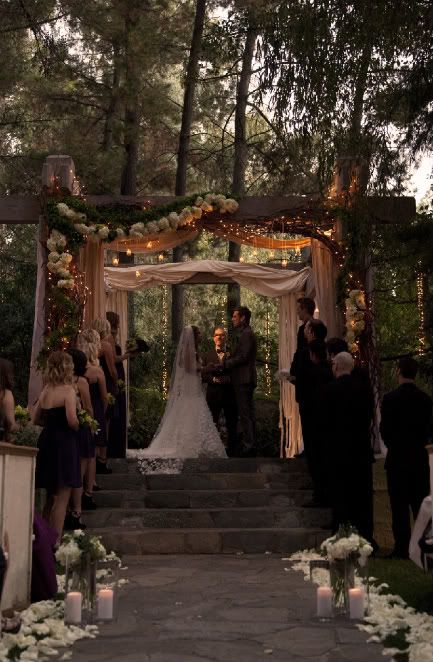 Gettin' rowdy to: Sky's Torn Open - Briertone // Children of Fire - Oh, Sleeper // Xylo Myloto - Coldplay // Rising Sun - Stray From the Path // If Not Now, When? - Incubus
---
---
10/13/11: "We are cowards and thieves..."
I am really excited to announce that Freshly Inked magazine did a feature on my tattoo work. I'm honored to be a part of this month's issue and I am fortunate enough to share the pages with some of my favorite tattooers, including the stud on the cover.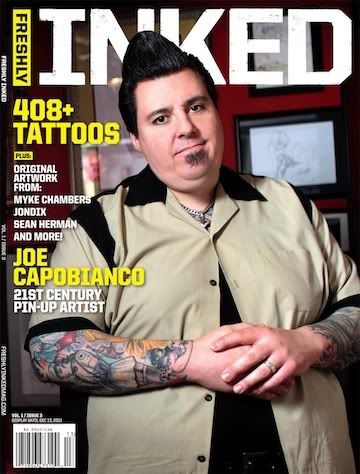 In the midst of finalizing all the last minute details of my wedding, I managed to get outta' dodge here and there for some incredible bachelor festivities. A mansion at Big Bear Lake, OktoberFest, shotguns, MY friends, and copius amounts of liquid courage made for a few outstanding (and outlandish) moments. I am so thankful for my amazing family and friends.
*** I have been listening to Major/Minor by Thrice since it hit stores last month. It is a beautiful album. Do yourself a favor and get in to it.
---
---
9/17/11: The Warmth of Home
I am back with a vengeance. It is so nice to be back home with family & friends; as well as back at MD working every day again. I am STILL catching up on all of my emails so I apologize for the delay. Please bare with me. I promise I will reply to every one of your gentle souls as quickly as humanly possible. Thank you for your patience and understanding. I look forward to starting some new tattoo projects and finishing up some old ones.
I'm almost finished with a new oil painting that I cannot wait to showcase. It is the first of several new works. I'm working on my first series of paintings that I hope to eventually exhibit. It has been consuming most of my brain's limited free space, as of late. We'll see where it takes me. Can't wait.
***Headbangin' to: Dead Throne- The Devil Wears Prada, Symptoms and Cures- Comeback Kid, Wasting Light- Foo Fighters
---
---
7/29/11: Gone Fishing
Hello, all. I do hope that you are all enjoying your summer. California weather has been splendid. I had to go to Palm Springs and Vegas for a few days here and there to break up the glorious 80 degree monotony. As it were, I am just a few days shy of turning 25 years old and I cannot say that I am not absolutely thrilled to be where I am at in life. My personal life, artwork, and business endeavors have been keeping me insanely busy and feeling completely fulfilled. My fiancee and I have been anxiously getting ready for our wedding, scheduled later this year. Needless to say; I am busier and happier than I have ever been in my life.
With that said; I am taking a small break and leaving society for a little while. I cannot say where or for exactly how long for contractual reasons, but I can say that I will be without most modes of modern communication. PLEASE feel free to email me with your ideas for tattoos and/or artwork but I will not be able to respond until September or so. It is out of my hands. I look forward to getting back to each and every one of you as soon as I can. Until then; please check out the rest of the amazing crew at MD Tattoo Studio for all of your tattoo needs. Cheers.
***Bumpin': Memphis May Fire, Of Mice & Men, The Butchers and The Builders, Evaline
---
---
6/10/11: Mad Shreddage
My good friend, Mike Entin, made this fun promo vid for me after I tattooed both of his feet recently. He sat for a grueling 8 hours but we had a great time nerdin' out about metal, tattoos, and sweet Jesus sandals. Mike plays guitar in a rad band called Speaking The Kings. There is an instrumental track from their new EP playing in the video. Producer, Tom Denney of A Day To Remember, really brought out an awesome sound from Mike's rad band. Enjoy!
---
---
5/23/11: Ink-N-Iron Tattoo Convention 2011
I will be we working the Ink-N-Iron tattoo convention in Long Beach, June 10-12 with the entire MD crew. I had the privilege of attending this great show last year and I highly recommend this lively cultural gathering. I am not taking appointments for this show, as I am booked. I will, however; be selling prints of some of my artwork and open to discussing new projects. I am eager to see old friends and meet a few new ones. Hope to see you there.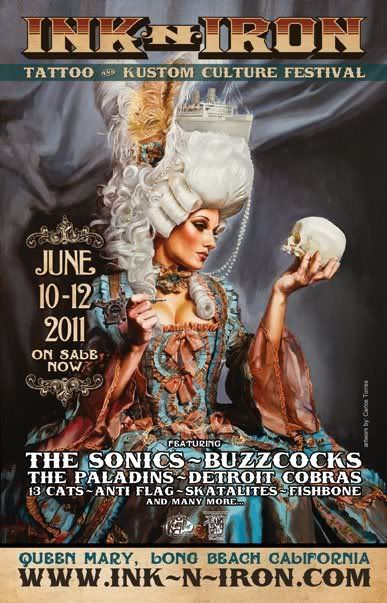 I have been painting and drawing a lot lately. Expect to see some new posted artwork in the near future.
**New Digs: Despised Icon, Memphis May Fire, Steve Miller Band, Radiohead
---
---
5/12/11: The Purveyors are Coming...
---
---
4/25/11: "C'set la vie! Sing a song of living before everybody dies."
I am thrilled to announce that I am, officially, the newest member of the Intenze Products artists team. Intenze is the leading tattoo ink company in the world because they have set the standard for quality and safety. I am honored and humbled to be associated with such a great company and talented team. I've been using their products for years and now I exclusively use Intenze ink for all of my tattoo work. I owe a huge thank you to my friend, Mike Demasi; for believing in me, motivating me, inspiring me, and introducing me to the great crew at Intenze Products. The experience has been amazing, thus far; and I'm really looking forward to what the future might bring with Intenze.
**Bangin' my head to: Scurrilous - Protest the Hero, Stick Up Kids - Bad Rabbits, Ravedeath, 1972 - Tim Hecker, Contagion - Oceano
---
---
3/8/11: "You are the world of endless joy."
The Musink tattoo convention was righteous! I had the privilege of tattooing next to some of the industry's finest. I met some awesome people, tattooed some of my favorite clients and hung out with some of my dear friends. Thrice played an incredible set which made the weekend that much better (do yourself a favor and fall in love with this band). I salute Musink and the Orange County Health Department for putting on a great tattoo convention with a high standard for quality and care. I'll be back for sure.
Skin Deep Magazine, an amazing tattoo publication out of the UK, interviewed my boss about the shop I work at. It is divided into two parts and separated between two issues. The second part of the interview can be found in the newest issue of Skin Deep so be sure to pick it up! I'm grateful to be able to grace a page or two of such a renowned magazine. Thanks to Skin Deep and my coworkers at MD.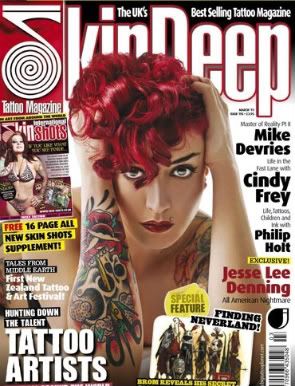 I am very excited to be a part of a new promotional campaign for Intenze Products. Intenze makes some of the world's greatest tattoo pigments and I am honored to be a part of it. My friend, Mike Demasi, asked me if I would be interested and after using his color portrait set of inks recently; I immediately jumped at such a great opportunity. I love all their great colors and I am so thankful for the Ultimate Color Set that they sent me. Check out my facebook page for my daily work using all Intenze Products during the month of March!
A rad client of mine, Steven McGlade, is a great photographer. He came in to the shop and took some really nice photos for a school project. Check them out HERE. This is one of the photos: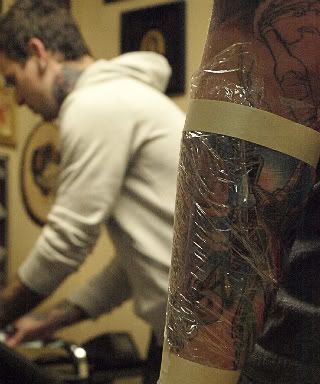 **Inspired by: White Rabbits, Barton Fink, Big Chocolate, Architects, Caribou, Yeasayer
---
---
2/15/11: "The devil is not the nature that is around us; but, the nature that is within us all."
Just wanted to let you guys know that I decided (last minute, of course) that I will be working the Musink tattoo convention on March 4th - March 6th. This will be my first time working this convention. I'm really quite stoked to share a booth with my friend and colleague, Jeff Johnson. So come hang out, stop by the MD booth and say hi, and enjoy some awesome bands (can't wait to catch a set by Thrice).
I'm thinking that I am NOT going to set up any appointments for Sunday the 6th. I'd like to take this opportunity to meet new people and potential clients. I'm always looking to take on new, interesting projects. SO... if you'd like to get tattooed by me at Musink - FIRST COME; FIRST SERVED. I will not be accepting or scheduling an appointment ahead of time for Sunday. Just come to the booth and tell me your ideas and/or bring your reference photos, etc... If it's something I'm interested in or if I feel like I'm the right guy for the job - we can knock it out. I'm excited about this. Let the games begin! Haha... Cheers.
Hope to see YOU there.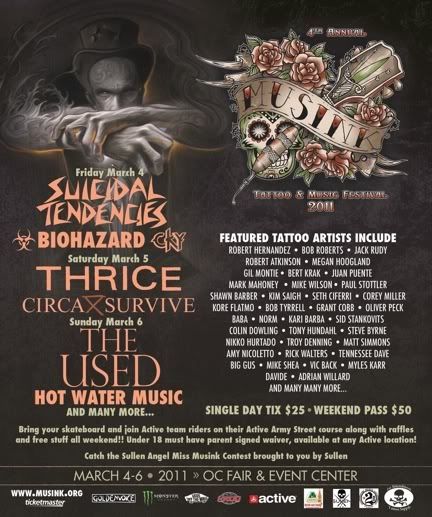 **Can't stop listening to: The Dear Hunter, MUTEMATH, August Burns Red, The Damned Things
---
---
2/2/11: "Because something is happening here, but you don't know what it is do you, Mr. Jones?"
2011 is off to a great start! The Pomona Body Art Expo was great. I got to see some old friends and had the chance to work on some pretty fun tattoos. I'm excited to work the next Pomona show this summer. You can see these tattoos and some newer stuff in my gallery.
I was lucky enough to fly up north to Grass Valley, California to visit friend and fellow tattooer, Cory Norris at the end of January. He graciously invited me to his shop and into his home for a weekend. We talked shop, ate good sushi, and even traded tattoos. He has an awesome crew at his shop! I'm so honored to wear a tattoo by a master and very humbled to have been able to tattoo him. I am fortunate enough to have made friends like Cory in my travels. He is one of the coolest people and most talented artists I've ever had the privilege of meeting. Do yourself a favor and look up his work at www.CoryNorrisTattoo.com.
Also, one of the best tattoo publications in the world, Skin Deep Magazine, did a nice two-part interview with my boss about life at MD Tattoo Studio. I'm very excited to be a part of the MD team and stoked that my work was published in such a great magazine. Be sure to pick up this month's issue to check out part one of the interview which showcases some newer work by everyone from the shop!!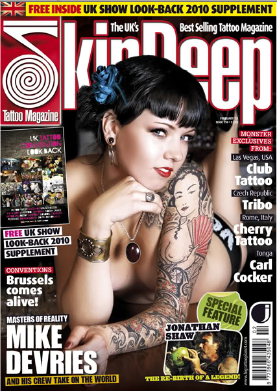 **Been groovin' to: Bob Dylan, Upon a Burning Body, Brandon Boyd, The Beatles
---
---
1/5/11: "We set sail with no fixed star in sight. We drive by braille and candlelight."
A new year has begun and I couldn't be more excited. I have BIG plans for 2011. I'm working on several gnarly projects in and outside of tattooing. I cannot wait to start unveiling some of these things I've been working on... so keep an eye out!
All of these projects (plus getting ready for my wedding toward the end of the year) will result in minimal traveling and out-of-state tattoo conventions for me this year. However; I will be doing as many local tattoo conventions as possible... starting with the Pomona Body Art Expo January 21-23rd with the rest of the MD crew. I'm already booked up for this show but please come by the booth and say hi! I will be selling some artwork and would love to meet you & chat about cool tattoo ideas. I am also going up north to visit a friend and AMAZING artist, Cory Norris, to trade tattoos and paint for a weekend at the end of January.
I am also very proud (and oh, so humbled) to announce that my work was featured in the most recent edition of Tattooist Art Magazine. Check out their beautiful publication! I look forward to doing more work with Leo and crew. THANKS, GUYS!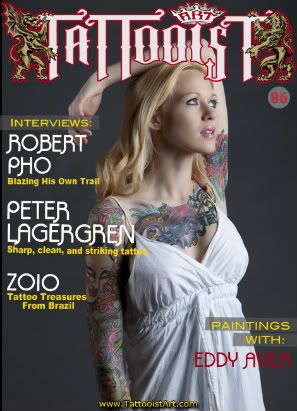 This is just the beginning... so stay tuned!
**Current jams include: Poison The Well, He Is Legend, Thrice, Riley Breckenridge, Modest Mouse, Within The Ruins
---
---
12/15/10: "Youth is easily deceived because it is quick to hope."

I just added a $100 GIFT CERTIFICATE to my online store just in time for the holidays! It's a great gift idea for your family and friends to use towards a new tattoo or an original piece of art also available in my store! Pick one up, HERE, today!

I'm also very excited to announce that the crew at MD Tattoo Studio and I raised over $2,500.00 for our 2nd annual "Get Tattooed for Charity" event on Sunday, December 12th. We did $40 tattoos all day and gave all the proceeds to the Salvation Army's Christmas Charity Fund . I did 12 tattoos in one day! It was a ton of fun and I appreciate everyone who came out and supported the cause. I hope everyone has an awesome holiday season! Cheers.
**Currently listening to: Incubus, Oh Sleeper, The Who, Creedence Clearwater Revival

---
---
11/28/10: "My body's a zombie for you."
I hope that you all had a great Thanksgiving with friends and family. It is always nice to be able to stop for a moment and appreciate everything we have in life. Don't forget that you can appreciate it all year round! I can't believe Christmas and New Years are just around the corner... I can't wait!
I recently put together an online store to sell some of my artwork through my website. Everything in the STORE will be for sale, including prints and originals. Check it out! I am working on a lot of new projects so keep an eye out for new works in my gallery and new items for sale in the store.
**Currently listening to: The Black Keys, Dead Man's Bones, Kanye West, Miss May I, A Day to Remember
---
---
10/25/10: "You haven't met me, I am the only son"
I cannot even begin to describe how amazing (and insane) the last month has been. I have been tattooing like a mad man, trying new things and attempting new techniques... namely; color realism/portrait work (see the new portraits in my tattoo gallery. I cannot wait to do more portraits and color realistm; so keep them coming!
I attended a bachelor party, two consecutive (unrelated) weddings. I went to San Francisco with TheWolfPack (see below) for a weekend shredfest. For 3 days; we slept for a total of 8 hours, walked a million miles, rode bikes in the pouring rain, I threw in a short tattoo sesh on a client from town, ate like champions, and generally just owned that town like kings. Frisco will always hold a special place in my heart.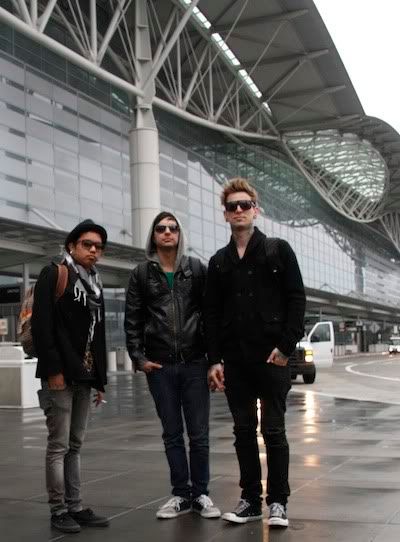 I'm also VERY proud to announce that my beautiful girlfriend of 11 years (yes, 11 years... Jr. High) and I are engaged. We had a beautiful evening (on her birthday when I proposed) followed by an amazing engagement party with family & friends the following night. Life is good and I am stoked for the future.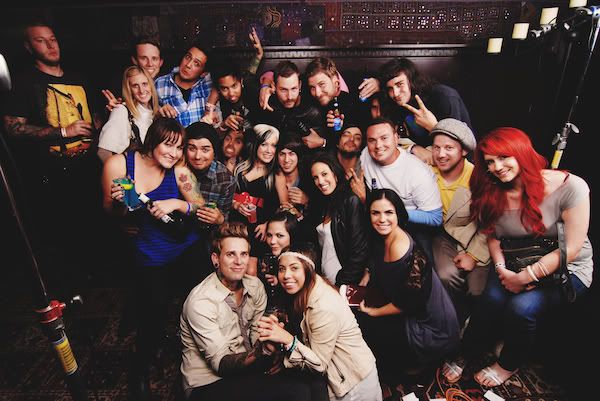 *Currently jamming to the latest albums by: Mumford & Sons, Chiodos, and Bring Me The Horizon
---
---
9/14/10: All is fair in love and gore...

Life has been pretty gnarly, lately... in a good way. I'm busier and more inspired than ever. I feel like my life has become a whirlwind of art. I tattoo all day and paint all night (Keep an eye out for my new paintings!). I'm so thankful for the support of my committed clients who continue to wear my art and push me further as an artist. THANK YOU! I'm also working on a few projects outside of tattooing and personal artwork that I cannot wait to unveil in the months to come. As crazy as life is lately; I definitely prefer it this way. I hate feeling stagnant. Therefore, I will relish in it.
I'll probably keep this news section as a sort of Blog so keep checkin back to see what I'm up to. I have some traveling coming up so I'm sure my site will abound with new pictures and stories pretty frequently.
*Currently listening to records by Anberlin, Stray From the Path, and Envy on The Coast
---
---
8/2010: My first ArtShow
Thanks to everyone who came out. I had a great time and got to see some old friends and make a few new ones. Stacy Clark played a rad acoustic set (check her out at StacyClark.net). London@theartoflondon.com. You can check out my new works in the GALLERY!

---
---
5/10: Guest Spot at Nikko Hurtado's new shop
I had an awesome time working at Black Anchor Collective, Nikko's new shop. It's pretty much a tattoo Bat Cave. Nikko, Carlos Rojas, and Mat Hurtado are some of the coolest and most talented dudes on the planet. I had a blast and got to work on some awesome tattoos on some of my favorite clients. Thanks guys!
---
---
4/2010: Artist Collaboration Series T Shirt with PacSun
I was stoked when PacSun asked me to be a part of the Artist Collaboration Series and design a tee shirt for them. I met some really nice folk at their art department in OC and had a ton of fun watching the project come to life.
The shirt was printed as a limited edition design and was sold at 400+ stores around the country. Here's a video biography on me that they put together for the project...
---
---
3/2010: Artsy Vid
My talented photographer friend, Megan Thompson, made this video while I tattooed her buddy. I thought it was pretty cool so I thought I'd share it with you. She's taken photos of some of my favorite bands... You can check out her amazing work at www.MeganThompsonPhotography.com.
---
---